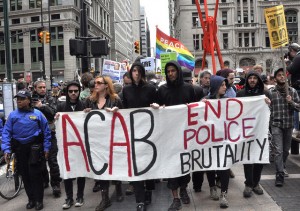 The apparent rise of police corruption and brutality in the US over the last few years has produced a public cry for police accountability. The perceived uptick in police killings recently is mostly the result of cell phone video cameras- although there has been a slight rise, according to the New York Times. From that article:
"But determining the prevalence of such killings is no easy matter. The use of force by the police — against minorities and whites alike — is so poorly monitored that there is no precise accounting of how many citizens are killed, much less their ethnicity or other crucial details."
There have been cries heard in the halls of congress for reform and more "policing of the police". More than a dozen states are considering new legislation aimed at increasing police accountability in the wake of violent, deadly incidents in Missouri, New York, Ohio, South Carolina, and now Baltimore, Maryland.

Grass roots activism is also on the rise. Organizations like the National Police Misconduct Reporting Project (NPMRP) gather reports of credible allegations of police misconduct- they state on their website that "Individuals who are victimized by police misconduct should expect a review process that will seriously investigate complaints."
Police accountability is a massive step in the right direction, and much needed reform can greatly improve criminal justice outcomes. What is also needed is more accountability for corrupt prosecutors and judges. We traditionally see these people as immune to scrutiny, a dangerous position as a society.
This type of prosecutor and court corruption is more prevalent than is ever reported in the media, or even uncovered publicly. Leon Torres is in prison 28 years after being falsely convicted- Leon has paid the ultimate price for the corrupt prosecution and courts we as a society condone with our society's lack of accountability for these people.
This needs to change if we are to live in a sane balanced world, where innocent people stay out of prison for starters, and innocent people that slip through the cracks are soon detected and exonerated. It's a symptom of our culture' s mental illness that we need to raise $60,000 to hire a clemency lawyer, as this is now Leon's only recourse, in order to see that justice is served.
Please support our effort to get an innocent man out of jail- we are accepting donations, which will be used for a lawyer, and to further the awareness of Leon's cause.