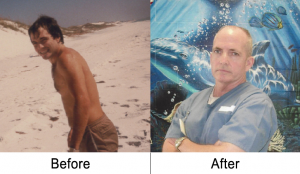 I would like you to meet Leon Antonio Torres.
Leon has been a prisoner in the Florida State Prison for over 28 years, after being falsely convicted of murder in the 1986.
Even though much evidence has come to light regarding Leon's innocence, he remains in jail, wasting his life away in a cage for a crime he didn't commit.
The problem here is police corruption. Leon was scapegoated for the crime of killing a restaurant owner during a botched robbery, a crime that has been admitted to by another party.
In the years since Leon's conviction, one witness recanted, the real killer confessed, the main witness against Leon went on to have a lengthy criminal history and court documented insanity, and the cop who pushed the hardest for a conviction married the widow of the murder victim.
This is an absolute outrage- and the travesty is compounded by the fact that Leon's only recourse at this point is to apply for clemency, a lengthy and very expensive process.
Shouldn't the burden of responsibility be on the state of Florida, considering the evidence showing Leon's absolute innocence?
The criminal justice system is not holding itself accountable- if this can happen to one of us, it can happen to any of us! Please help us right this injustice and to achieve justice for Leon by supporting our cause.