The articles and documents which follow, can easily be verified as being authentic by using court records and police reports.These newspaper clippings demonstrate how I was obviously the third person accused of this crime.
—Leon Torres
Exhibit A
Jurors Convict Man in Restaurateur's Murder
By HOWARD TROXLER
Tribune Staff Writer
The lawyers couldn't duplicate the weather of the night an armed robber shot and killed Johannes "Hans" Frischknecht, for that was the night Hurricane Elena threatened Tampa 13 months ago.
But the prosecutor tried to duplicate everything else about the killing Monday in Hillsborough Circuit Court, down to running through the courtroom in his shirt-sleeves brandishing the murder weapon.
He won the case.
After deliberating four hours, the jury found that 23-year-old Leon Antonio Torres committed the first-degree murder of the owner of the Matterhorn Hofbrau House on Aug. 31, 1985. The jury will return to court today to recommend a sentence to Circuit Judge Donald Evans, either life in prison or death in the electric chair.
Frischknecht, 39, died bringing a shotgun and a pistol to bear against a masked, unidentifiable robber who invaded his restaurant after hours as he and family and friends celebrated the end of the season.
Police arrested a restaurant employee named John Scott Lehman for being an accomplice in the robbery. Lehman, on the eve of his own murder trial, fingered Torres and testified against him. Lehman's sister Pauline, who was dating Torres at the time, testified Torres came home that night and said, "I think I just shot somebody." Experts identified a gun owned by Torres as the murder weapon.
In closing arguments Monday morning, defense lawyer Donald Westfield argued that the Lehmans had set Torres up, using his gun. Westfield hammered on the fact that Lehman had given police two previous stories about who the gunman was. One man was arrested, but later freed for lack of evidence.
After being threatened with death penalty when the firs two names didn't work out, Lehman and his sister decided to make Torres the scapegoat, the defense lawyer contended. Lehman's sentence will be 12 to 17 years under the deal.
"Would a purchasing agent (Torres' profession) run out and commit an armed robbery to help the brother of a girl he had known for only three months?" the defense lawyer asked.
Then it was the turn of prosecutor Joe Episcopo, who placed large color photographs of the restaurant on four easels and a blackboard scattered around the courtroom.
He eschewed the traditional podium from which lawyers make their arguments ("It gets in my way"), and stripped off his jacket. Arguing that the murder was premeditated, Episcopo reminded jurors that Torres, according to Lehman, filled the gun's clip with 36 bullets. He counted to 36 as he imitated the act.
Then Episcopo assembled the three pieces – clip, gun and barrel – each with a click that echoed through the courtroom. After each click he repeated the words, "conscious decision to kill". Episcopo waved the gun – a black, foot-long piece with a bolt that he worked repeatedly.
"Then it begins". Episcopo said. He broke into a trot around the courtroom and snapped the gun's bolt again – this time behind Torres' head as he passed by the defense table. Pointing at various photographs on the easels, he described the crime as if the jurors were sitting in the restaurant.
Yes, the state made a deal with Lehman, Episcopo admitted. But the testimony of Scott and Pauline Lehman had not been contradicted by any other evidence, he said.
Jury Recommends Death for Restaurateur's Killer
The judge can follow the recommendation or impose a life sentence on 23-year-old defendant Leon Antonio Torres.
By HOWARD TROXLER
Tribune Staff Writer
Death is the price a 23-year-old Tampa man should pay for shooting and killing a popular restaurateur during a 1985 armed robbery, a Hillsborough Circuit Court jury recommended Tuesday.
The jury that convicted Leon Antonio Torres of first degree murder Monday night returned to court Tuesday morning, heard final arguments from the lawyers, and recommended the death penalty by a 7-5 vote.
Circuit Judge Donald C. Evans now can accept the jury's recommendation and impose death, or overrule the jury and sentence Torres to life in prison with no chance of parole for 25 years.
Evans scheduled sentencing for Dec. 12.
Torres was convicted for being the gunman in an Aug. 31, 1985, robbery at the Matterhorn Hofbrau House, a robbery that ended with the death of owner Johannes "Hans" Frischknecht, who tried to defend his family and guests with a shotgun and a pistol.
Prosecutor Joe Episcopo argued that Torres deserved death because the robbery was premeditated, and it exposed the approximately 15 people in the restaurant to risk of death or great injury.
Defense lawyer Donald Westfield asked the jury to spare Torres' life, reminding the jury that various witnesses had spoken of his otherwise good character and background.
During Torres' trial last week and Monday, the state relied on testimony from Torres' accomplice and the accomplice's sister, who lived with Torres at the time of the murder.
The defense contended that the brother and sister had set Torres up, using Torres' gun to commit the robbery with an unknown third person. The jury rejected that theory after four hours of deliberation Monday afternoon.
Killer Faces 2nd Hearing for Sentencing
By BAYARD STEELE
Tribune Staff Writer
Friday, February 6, 1987
TAMPA – Evidence will show that 'Leon Antonio Torres deserves to die for the 1985 murder and robbery of a local restaurateur, a state prosecutor told jurors Thursday.
The seven-man, five-woman jury is the second panel to consider the fate of Torres, a 23-year old Tampa man convicted in October of killing Johannes "Hans" Frischknecht, owner of the Matterhorn Hofbrau House.
The jury that found Torres guilty of the crimes voted 7-5 to recommend the death penalty, but Hillsborough Circuit Judge Donald C. Evans called for a second sentencing hearing because of "procedural problems" during the first one.
Joe Episcopo, the prosecutor in both sentencing proceedings, said Evans made the move because one of the state's reasons for seeking the death penalty was not applicable in the case.
"We are correcting a mistake that could have led to a reversal, " Episcopo explained.
The first jury's finding of guilt on charges of first-degree murder and armed robbery is not affected by the judge's decision.
Courthouse observers said Evan's ruling marks the first time in recent memory that a Hillsborough judge has called for a second sentencing in one of his own cases.
Episcopo told jurors Thursday the death penalty is an appropriate punishment because Torres killed Frischknecht during a robbery and while endangering about 15 other people in the restaurant.
Torres' attorney, Donald C. Westfield Jr., maintained the killing was unintentional.
Torres shot Frischknecht on Aug. 31, 1985, while the restaurant owner stood near the doorway of his business at 810 E. Skagway St.
This is John Scott Lehman's truthful "Recantation Affidavit," in this legal affidavit he states what really happened. I filed this affidavit to the Tampa courts, was granted an evidentiary hearing which is at the same hearing Scott was threatened into withdrawing this affidavit. He then however, admitted at this same hearing and on the court's record, to writing and sending me a handwritten letter (Exhibit C) in which he once more states the truth. — Leon Torres
Exhibit B
IN THE THIRTEENTH JUDICIAL CIRUIT COURT
IN AND FOR HILLSBOROUGH COUNTRY, FLORIDA.
STATE OF FLORIDA
vs CASE: 86-1462
LEON A. TORRES
AFFIDAVIT
STATE OF FLORIDA
COUNTRY OF HILLSBOROUGH
Affiant: JOHN SCOTT LEHMAN
I John Scott Lehman, Affiant, being first duly sworn, depose and state:
In 1985, I was a heavy user of marijuana. Sometime around June or July 1985, I met a man who was sitting on the park bench at the intersection of Bush Blvd. and Nebraska Ave. in Tampa, Florida named William Moore. I use to ride my bicycle to the Matterhorn Restaurant where I worked as a dishwasher.  Almost every afternoon around 3 to 4 PM,  I would see Moore on the park bench. Until later, I did not know he was scoping out the Matterhorn for robbing, which was across the street from where he always sat. One day he asked me if I wanted a drink and I accepted. From then on, everyday I would come early to drink and talk before going to work. He asked me a lot of questions about the operation of the restaurant and later asked me to help him but not to tell anyone that he was going to rob it. When the robbery occurred, I acted as if I did not know what was going on nor did I assist him. When Mr. Frischknecht challenged Moore, he shot Mr. Frischknecht who later died. I was arrested the next day as an accopmlice to the unknown robber.

As a result of several hours of intensive interrogation and threats of being charged with first degree murder and receiving the sentence of death by electrocution and after giving false testimony against James Steward, I again gave false testimony to the Tampa Police Department against Leon A. Torres. Said false testimony was later given by me, twice, to a judge and jury during the murder/robbery trial in the Hillsborough Country Courthouse in the above styled case due to threats and misconceptions.

I was the only suspect the Tampa Police knew who could positively name and identify the man who wore the mask, gloves and hat when he robbed the Matterhorn, shooting and killing the owner Hans Frischknecht, on August 31, 1985.

At first, I truthfully stated to the Tampa Police that I was involved in the robbery but I did not shoot anyone, and the man who committed the robbery and murder was William Moore, whom I described and also provided an almost exact description of his vehicle.

After about two weeks, the Tampa Police said they could not find William Moore and refused to believe me that Moore committed the robbery. I again was pressured by the Police to give them another name. At this time, the Police themselves mentioned the name James Steward whom I barely knew. Due to the fear of a death sentence, I agreed that it was James Stewart. Stewart was subsequently arrested and confined in the country jail for almost four months, before it was realized that Stewart was not my accomplice.

After Steward was released, the Police approached me and again threatened me into giving them another name. Out of sheer desperation, I told them that my sister's boyfriend, Leon Torres, was the owner of the weapon used in the robbery/murder, and that Torres was the masked robber who committed the murder and was my accomplice.

I also told the Police that Torres, with my sister and I, has purchased ammunition for the weapon during Torres' lunch break on August 31st. I told the Police that the ammo had been purchased for target shooting if the weather cleared.

Because of my false allegation and testimony, Torres was arrested and brought to trial for the robbery/murder charges. Torres was then found guilty and sentenced to life in prison.

I am now willfully doing what I wanted at first to do as I did not forgive the murderer of my employer nor was such planned. I am now trying to correct a great wrong which I committed against an innocent man.

I often took Leon's weapon and ammunition from his and my sister's apartment while he was at work. On August 31, 1985, I gave the weapon to William Moore who then committed the robbery/murder. I did not inform Torres I was taking his weapon nor did I tell him about the planned robbery that night.

I do not want to live with the thought of an innocent man spending his life in prison for a crime that William Moore and I committed. I greatly regret the pressure that made me falsely testify against Torres. However, due to my mental state, my heavy drug use, my limited education and young age, the pressure and threats being applied to me by the Police and the State Attorney's Office, which was overwhelming. I felt that I had no choice but to blame someone to avoid the electric chair, as the truth was not believed. The reason I implicated James Stewart and then Leon Torres is the Police would not believe me when I stated the truth the first time. After Stewart, I implicated Torres because he was the owner of the gun and I felt sure the Police would believe that he committed the murder/robbery, especially after they could not find Moore, and Steward had been released.

As a result of my false testimony, I was given a plea agreement for a lesser sentence. Only within the past year have I satisfied that agreement. Before now, I was always afraid of informing anyone of the truth for fear the plea agreement would be withdrawn by the State and I would be taken to trial for the murder and receive the death penalty which they continually promised. Now that my sentence is completed, I step forward willingly, and gave the truth for the purpose of clearing my conscience and attempting to rectify the wrong which I committed. I should now be allowed to testify to these truths stated herein without being prosecuted further.

Further, Affiant, sayeth nought.
Before me, the undersigned authority, personally appeared John Scott Lehman, who was sworn and says that he is the affiant, he has read the foregoing affidavit, and the contents are true and correct.
SWORN AND SUBSCRIBED TO BEFORE me this 19th day of May, 1996.
A # L550-477-67-225-0 (Florida ID Card) was produced as identification.
9/4/96
 This is a court's copy of Scott Lehman's handwritten letter to me. I had to obtain a court copy because after Scott admitted in open court to writing this letter, I then entered it into evidence at the Evidentiary Hearing of 1997. In this letter, Scott once more states the truth, but in even greater detail. He also states he is a psychopath, he clearly states he must kill two people to be right, and he clearly states his plans to victimize society as a whole. He states this all in his own admitted handwriting. Thehighlighted portions are of the parts just mentioned. However, to better understandhis true mental imbalance and sickness, please read this letter in its entirety.
— Leon Torres
Exhibit C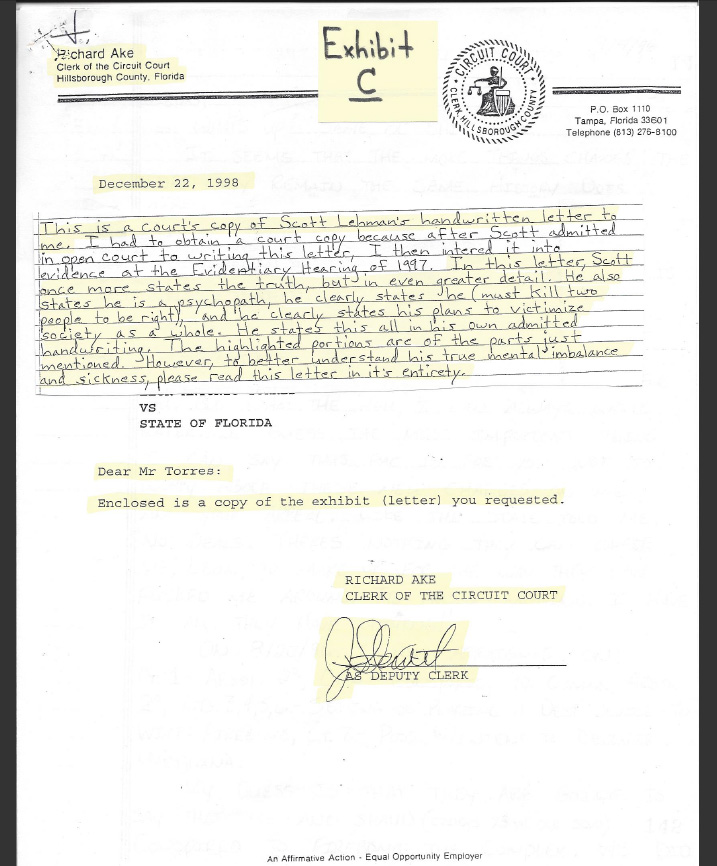 TRANSCRIPT:
LEON,
WHATS UP? SAME OL' SHIT HERE.
IT SEEMS THAT THE MORE THINGS CHANGE, THE MORE THEY REMAIN THE SAME. HISTORY DOES REPEAT ITS SELF. AND ONE MORE I'M STILL PUZZLING OVER: CHANGE IS A FOOLS NAME FOR FATE, AS THE CONSEQUENCE FOR EVERY ACTION IS IMPLICIT OF THE ACT ITSELF.
ENOUGH OF THAT, THE REASON I HAVEN'T WRITTEN SOONER IS , QUITE FRANKLY, I WAS HOPING TO HAVE SOME MORE INFORMATION FOR YOU. BUT WHAT THE HELL, I CAN ALWAYS WRITE LATER. I GUESS THE MOST IMPORTANT THING I CAN SAY THUS THUS FAR IS FOR YOU NOT TO WORRY ABOUT THESE NEW CHARGES ON ME AND YOUR APPEAL. LIKE THE STATE TOLD ME: "NO DEALS." THERE'S NOTHING THEY CAN OFFER ME, LEON, TO MAKE UP FOR THE WAY THEY HAVE FUCKED ME AROUND. ITS ALL OR NOTHING. I HAVE IT ALL, THEY HAVE NOTHING!!
ON 8/20/96 I WAS ARRAIGNED ON; CT. 1-ARSON 2O, CT. 2 – CONSPIRACY TO COMM. ARSON 2O, CT'S 3, 4, 5, 6 – SETTING OR PLACING A DEST. DEVICE 0 TO WITT: FIREBOMB, CT. 7 – POSS. W/INTENT TO DELIVER MARIJUANA.
MY GUESS IS THAT THEY ARE GOING TO SAY THAT ME AND SHAWN (CINDY'S 13 YR. OLD SON) CONSPIRED TO FIREBOMB THE COMPLEX. WE DO SO CAUSING DAMAGE TO THE STRUCTURE; TO WITT. DESTROYED THE COMMUNICATION AND ELEC. SYSTEM (NOT ACTUAL BUILDING). THEY RECOVERED ENOUGH BUSTED + BURNT FORENSIC EVIDENCE TO RECONSTRUCT 4 FIREBOMBS. DURING ARREST THEY CONDUCTED A PERSONAL SAFETY CURSORY SEARCH (ANOTHER PHRASE FOR AN ILLEGAL WARRANTLESS SEARCH AND SEIZURE) AND SPOTTED THE 14.7 GRAMS OF SEEDS AND STEMS 'IN PLAIN VIEW.' TRUTH OF THAT IS THAT IT WAS IN PLAIN VIEW AFTER ONE INVESTIGATOR OPENED THE DRESSER DOOR AND LEFT AND THE OTHER CAME IN AND SAID 'OH, WHAT DO WE HAVE HERE' AND WHAT MAKES IT WORSE IS THAT WHEN WEIGHT IN FRONT OF ME IT WAS 14.7 GRAMS, WHEN I GET CHARGED ITS 33.3 GRAMS! GO FIGURE!
THE C.RA. ON THE ARSON THE SPECIAL PROSECUTOR READ AT MY ARRAIGNMENT WAS AS FOLLOWS: DEFENDANT WAS OBSERVED BY WITNESS GOING INTO THE WOODED AREA BEHIND. THE LOCALS WHICH IS A BUSINESS COMPLEX CARRYING TWO CONTAINERS OF GASOLINE.
DEFENDANT THEN A SHORT TIME LATER PLACED THIS GAS INTO GLASS BOTTLES WITH RAGS, LIT THE RAGS, AND THREW THEM ON THE BUILDING, SETTING IT ON FIRE [NOTE: NONE OF THIS WAS WITNESSED BUT THEY WRITE IT AS IT WAS. THEY SAY SUPPOSITION FOR CONVICTION?]
THE WITNESS(ES) THEN A SHORT TIME AFTER OBSERVED THE DEFENDANT RUNNING FROM THE CRIME SCENE (DON'T THEY MEAN OUT OF THE 'WOODED AREA' THAT'S THE SCENE) AS FIRE TRUCKS ARRIVED.
LEON, THAT IS SO FLAWED ITS NOT FUNNY, BUT YET THEY GIVE ME ANOTHER 151, 00000 BOND. ADD THE FACTS UP. #1-IT WAS WATER FOR MY BOG, THAT CAN BE PROVEN BEYOND A SHADOW OF DOUBT. #2-NOBODY SEEN ANYBODY MAKE + THROW ANY FIREBOMBS, THE WHOLE CENTER PARAGRAPH IS TOTAL SUPPOSITION ON WHAT THEY (POLICE, NOT WITNESS) THINK. #3-I WAS GONE A GOOD 1 HR TO 1 ½ HRS AND WALKED OUT OF THE WOODS A GOOD 20 MIN BEFORE ANY FIRE TRUCKS WERE HEARD. THEY MAKE IT SOUND LIKE I WATCHED THE FUCKING THING AND WHEN I HEARD SIRENS I BOUNDED OUT OF THE WOODS LIKE MY ASS WAS ON FIRE. HA! #4-POSSITIVE I.D. VIE PHOTO PACK, TRUTH IS THAT THEY SHOW A PHOTO PACK TO THE NEIGHBOR OF 4 PEOPLE FROM NEW MEXICO AND ME, THEN ASK IF THEY HAVE SEEN ANYONE OF THEM AROUND AT NIGHT. (NOT THAT NIGHT JUST A NIGHT). GIVE ME A BREAK! #5-FINGERPRINT "ON OTHER SIDE OF CHAIN LINK FENCE" (ACCORDING TO DETECTIVE) TRUTH IS THAT I HIGHLY DOUBT THEY HAVE ONE, ONLY A PLOY TO SEE WHAT ID SAY, THEY MAKE REFERENCE TO ONE BUT DON'T FILE THAT CASE BUT IN ANY CASE, IF THEY DO, I DID TAKE (DON'T LIKE THE WORLD STEAL YOU UNDERSTAND) A NICE BICYCLE FROM THERE ABOUT 6-8 WEEKS BEFORE ANY FIREBOMBING HAPPENED. NOW TAKE ALL THAT IN WITH THE FACT THAT MY DOG WAS OUT IN THE WOODS, A PROVEN FACT, THAT CONTAINERS SUPPOSEDLY HOLDING GAS ARE, WITH APROX 8 OTHERS STILL IN WOODS ALONG WITH DOG DISH WITH A STAKE BEAT IN. THE GROUND AND A ROPE TIED OFF. THAT MY MOTHER + SISTER LIVED ON THE OTHER SIDE OF THE WOODS, AND IT'S PROVEN I VISITED AND WENT THRU WOODS AT ALL TIMES OF DAY AND NIGHT. COUPLE IT WITH THE FACT THAT MY ONLY CHARGES + CONVICTIONS HAVE BEEN FOR 20 MURDER, ARMED ROBBERY, AND VARIOUS BATT. ON. L.E.O.'S AND OBST. OR OPPOSE. W/V. AND WHAT IS THE VERDICT? DUH, IS THIS A TRICK QUESTION?
SO IF THE STATE DOES OFFER A 'DEAL' THIS IS WHAT IT WILL HAVE TO BE: DROP ALL ARSON + ARSON RELATED OFFENSES. GIVE YOU A NEW TRIAL WITH NEW TESTIMONY ULTIMATELY CUTTING YOU LOOSE, AND DON'T EVEN THINK OF A PERJURY CHARGE, I'LL DRAG EPISCOPE COE, CHILDERS, BIRD, DONERY, STONE, ATRIKINS, PRICE STEWART + CO, AND MY DEAR OL' PAL WILLIAM ALLEN MOORE A.K.A. BILL MOORE OR WILD BILL THRU THE MUD SO DAMN MUCH THERES NO WAY THEY'LL BE ABLE TO WIPE THEIR FACES CLEAN AND BRING ME TO THE PERJURY CASE AT HAND. I CAN TRY APROX 3 SAYS AROUND IT AS EVIDENCED IN 15a FLA SUR 2 4184-85 ON PAGE 904. I CAN ASK FOR IMMUNITY THE PUSH DURESS (LET THE STATE PUT ON THE STAND) AND FINALLY TIME LIMITS.
I HAVE REVIEWED THE PACKET, ITS IN SAFE AND UNSEEING EYES WITH OTHER STUFF THAT IS NOT FOR EVERYONE'S BUSINESS. BUT, MY FRIEND, THE FACTS STILL REMAIN. I STOLE YOUR GUN, GAVE IT TO BILL WHO DONE THE ROBBERY. PICKED IT UP AT THE DESIGNATED SPOT AND RETURNED IT TO YOU. IF THEY WANT DETAILS SEE THE 'BIL MORE STORY' THAT IS MY CONFESSION ISN'T IT? OR WAS THAT DURESS? I DON'T REMEMBER, ITS BEEN II YEARS AND I ONLY WANT TO DO WHATS RIGHT. I SUFFER CHRONIC ALCOHOLISM AND MENTAL ILLNESS AND TO GET BETTER I HAVE TO CLEAN UP THIS MESS SO I CAN FEEL INNER PEACE. FOR HOW CAN I LIVE WITH SOCIETY WHEN I CAN NOT EVEN LIVE WITH MYSELF/ET.EL. SUICIDE ATTEMPT, HEARING VOICES, PARANOIA, ECT…. HOW WOULD YOU FEEL IF YOU WHERE THREATENED WITH THE ELECTRIC CHAIR FOR SOMETHING YOU DIDN'T DO AND WHEN YOU TOLD THE TRUTH THEY DIDN'T BELIEVE YOU AND YOUR LAWYER TOLD YOU, "SCOT, YOU BETTER GIVE THEM A NAME THEY CAN BELIEVE OR YOUR GOING TO GET CONVICTED OF 1ST0 AND YOU KNOW WHAT THAT MEANS!" DURESS AND COERSION TO LIE. PARANOIA WAITING TO HAPPEN.
AND BELIEVE IT OR NOT, LEON, IVE FINALLY CAME ACROSS THE MENTAL DIAGNOSIS FOR MY CONDITION. AS FUCKED UP AS IT SOUNDS, I'M IN THE CATEGORY OF PSYCHOPATH, EVERYTHING FITS. I WASN'T BORN ONE ALTHOUGH MY MOTHER KNEW WHEN I WAS REAL YOUNG I HAD A PROBLEM. SHE WOULD SEND ME TO DR'S "TO SEE WHAT MADE ME TICK."
I REMEMBER THAT WHEN I WAS ABOUT 9-10 YRS OLD. BUT I TURNED INTO ONE OVER THE YEARS SLOWLY. WITH HELP OF COURSE. IF YOU GET A BOOK TO DESCRIBE THE NATURE AND BEHAVIOR OF A PSYCHOPATH YOU WILL SEE THAT MY BEHAVIOR RUNS PARALLEL TO IT. SCARY, BUT NOW MAYBE I CAN CONTROL IT. I STILL HAVE A PARANOID THOUGHT THAT I MUST KILL TWO PEOPLE TO BE RIGHT – DON'T KNOW HOW TO EXPLAIN IT JUST HOPE TO CONTAIN IT BECAUSE IT WONT BE PRETTY. THUS FAR PSYCHOLOGICALLY I HAVE BEEN USING SYMBOLIC STAND- INS, AS DESCRIBED BY BOOKS OR JUST STRAIGHT KNOCKING THE FUCK OUT OF COPS WITH HANDCUFFS MAYBE GETTING LOCKED-UP. THIS ROUND WAS A WAKE-UP CALL' BECAUSE BRO' TV BEEN STOCK PILE OF SHIT. HIGH POWERED AIR GUN (TO SHOOT 'DARTS), STUN GUN, CHAINS, #5 REMOTE CONTROL DEVICES, AND YOU KNOW WHAT ELSE, I WAS TO GET A COMPOUND. CROSS BOW, WALKIE TALKIES AND START A HOBBY OF LARGE MODE ROCKETS WITH INTEREST IN THE REMOTE DEVICES AND ENGINES THEY IGNITED SOUND CRAZY, NO I THINK JUST FUN! ALAS, THE SAYING THAT 'YOU ARE A PRODUCT OF YOUR ENVIRONMENT.'
NEEDLESS TO SAY, MAN, I HAVEN'T HAD TECHNICALLY, ANY TROUBLE SINCE 91' BATT. ON. LEOS. BUT FOR TECH VIOLATION. CAN YOU BELIEVE A 3 ½ HE STANDOFF WITH THE S.W.A.T.
ANYWAY I HAVE BEEN DOING REAL GOOD WITH CYNDI AND HER BOYS ESPECIALLY SINCE MOVING TO SOUTH TAMPA/PICNIC ISLAND.
MY MOM HAD AN ACCIDENT AT A K STORE. SEEMS SHE TRIPPED ON A DRAIN PAVEMENT. SHE FELL TO HER KNEES AND SLID ON HER FACE. BUSTED HER EYE CHEEK, LIPS, AND SIDE OF FACE. SAYS HER TEETH HAVE BEEN MOVED, BUCKED OUT. CINDY SAYS SHES WORSE THAN WHEN I GOT HIT WITH THE BRICK, AND THAT WAS BAD, SO YOU CAN IMAGINE. HAD TO GO TO HOSPITAL BY AMBULANCE.
WELL BRO, MY LAWYER IS: NESTOR CASTILLO WITH TECH. ADVICE FROM MARK HERSHOCK, YOU, TOM, AND MYSELF, HOW CAN I LOOSE? (KNOCK ON WOOD).
I TRUST THAT SOMETHINGS DISCUSSED IN THIS LETTER CAN REMAIN BETWEEN US, YOU KNOW WHAT I MEAN. I WOULD HATE TO THINK I CANT TRUST YOU. OTHER THAN THAT, ILL LET YOU GO, TAKE CARE.
OH LAST BUT NOT LEAST, I HAVE HEARD NOTHING ABOUT YOUR APPEAL, REST ASSURED ILL LET YOU KNOW WHAT, WHERE, WHEN, WHY, HOW. ILL LISTEN TO WHAT THEY SAY THEN TELL THEM I WANT A LAWYER. I STAND ON THE 5TH, I HAVE A RIGHT TO REMAIN SILENT, AND ALL THAT OTHER GOOD SHIT. KEEP IT IN A HIGHER COURT AS LONG AS POSSIBLE, COE'LL BE GONE IN JANUARY MOST LIKELY.
ENCLOSED IS A PICTURE OF CINDY. YOU CAN SEE THE FURNITURE I BOUGHT, TOOK ME ABOUT 2 MONTHS TO PART WITH THAT 1,000. YOU CAN ALSO GET AN IDEA OF THE NEIGHBORHOOD THROUGH THE WINDOWS.
---
JUN 15 2010
Florida State Attorney's Office
Thirteenth Judicial Circuit
Tampa Office
419 N. Pierce Street
Tampa, FL 33602
Public Defender's Office
Polk Country Courthouse
P.O. Box 9000 – Drawer PD
Bartow, FL 33830
To Whom It May Concern:
Enclosed please find a photocopy of a letter wherein the writer proclaims he is the killer of a restauranteur. This alleged confession pertains to the September 1, 1985 robbery of the Matterhorn Restaurant in Tampa and the shooting death of Hans Frischkenecht. The writer identifies himself only as an alias used at the time, William Moore "a/k/k Wild Bill."
He express remorse for an innocent man serving a prison sentence for a crime the man did not commit, and states writing letter to President Obama is "all I can think to do" as he cannot turn himself in because he "must be here for my family".
This may or may not be a legitimate letter, but we felt we should forward it to your respective attention for action you deem appropriate, as the crime and subsequent trial occurred in your jurisdiction.
Sincerely,
H. Marshall Jarrett
Director
WH 737847
Exhibit D
Dear President Obama,
Hope you are patient, this is not an easy task of writing a confession to murder, for my part in this crime, these facts are accurate, I cant speak for the kid who helped me commit this crime or for the innocent man in prison for my crime.
I guess this began in early 1984 when I became a homeless and was living in a rusty, stolen mustang. I began committing grand thefts, breaking and entering, purse snatching and armed robberies. These were all committed in Central and South Florida. My exact age isn't important, but I was a fairly young man in 1984, and one of my aliases, was William Moore "a/k/a/ Wild Bill". I had many aliases, but for this crime I definitely remember telling a kid named John Lehman that my name was William Moore.
It seems this robbery and murder happened sometime in late August 1985 in Tampa Bay. I was able to trick this kid named John Lehman into helping me rob a big German restaurant he worked at named The Matterhorn. I'm sure it was on Busch Bud, right next to a car wash, but when I recently revisited Tampa, the restaurant was no longer there. It may have moved or closed down after this robbery in which the owner was shot and killed.
This is why I am filled with regret and remorse and why I am writing this letter, and sending it to the public. Just recently I sent a similar letter to one media source, I feel that was hasty mistake. My hope is now to get these truths to the right person.
As was mentioned, I was a transient living in a car, when I befriended a teenager named John Lehman in Tampa, John had a malformed left arm and he rode a ten speed bike to work. I noticed he worked at this big Matterhorn restaurant I had been casing for a robbery, so I met down at the intersection across the street from his work and we kind of became friends in a few days. John thought the junky stolen car I had was a nice ride. I would steal liquor, sometimes I would have reefer. John and I would drink and smoke and soon I mentioned my plans to rob his work place. But I told him I did not have a gun. John told me that he could get a gun from somewhere, but he needed to return it because he didn't want the owner of the gun to know it had been taken.
John and I spoke of the best way to rob the restaurant he worked at, and we planned where we would meet the next day after the robbery so we could split the money. It was some gas station down Busch Blvd., on the other side of the interstate.
John brought me a gun which looked like a machine gun, but it was semi Automatic I think it was a nine or ten millimeter, and I was to drop the gun behind some bush's right outside the restaurant's exit door after the robbery, so that John could be the first person out the door to retrieve the gun and return it to the owner.
On the night of the robbery, John was to act like he was a victim like everyone else. I put my usual gloves, hat, pullover, mask, large jacket and applied white shoe polish along the outside edges of my shoes, it's easy to wipe off after the robbery, and the shoes don't look the same. I would also turn the jacket inside out to look different as well.
The robbery happened late at night, soon after the restaurant locked its entrance doors. I entered through the exit door, and ordered the costumers at the tables and the employees to get up and move to an area near the register, one older fellow offered me his wallet, I said I only want the restaurant money, the older fellow said thanks. There were less people then I expected, maybe ten to thirteen people. It was an easy lick, until I encountered an armed man as I was leaving the restaurant.
I handed John a bag and demanded the money, some lady put money in the bag and handed it to me. I told everyone to get down on the ground, and not to follow me because someone in my car will blow their brains out.
Everyone laid on the floor and I headed for the exit door after I turned left toward the door, I saw a quick movement out the corner of my eye. I looked to my left and saw a man pointing a rifle at me, I then ducked to a crunch as he fired, I thought I was hit. I looked at the exit door about ten or so feet in front of me, and then looked to my left at the man with the rifle, and noticed he had dropped the rifle and was now pointing a pistol at me. I then stood up and stepped back as he started firing from his pistol. One of his bullets grazed me across my upper right chest and right shoulder, not sure where the bullet went.
I yelled once for him to stop, but he kept pointing and firing, so out of fear for my life, I fired twice with the gun I had. I saw him stagger back as I lunged for the exit door. Once I was outside and because of the shooting, I panicked and just threw the gun to my right, ran for my car just a few feet away and left.
I immediately drove to the causeway bridge and crossed into Clearwater. The next day I found a good sized body of water in a wooden area and sank the mustang in it. I stole a small motorcycle, got a job here and there and watched the news stations and newspapers. It seemed almost a year later that I read of a man named Leon Torres or Leon Torez or something like that, had been found guilty and given two life sentences for the crime I committed.
John Lehman was convicted of a lesser charge for his cooperation in testifying against this guy named Torres. I seem to remember that Torres may have been related to John Lehman, or Torres had something to do with the gun, I can't recall exactly. I lost the newspaper clippings from all those years ago, so I don't remember the correct spelling of the innocent man's name, I'm pretty sure it's Leon Torres
This life changing event has been burned into my memory, it can only be buried, but never forgotten.
At first and for many years, it was a relief to know someone else was convicted of this crime. I eventually left Florida, obtained a good job, met a good woman, we married, we now have two children who are in their teens and making great grades in school. My family and I are now of a good Christian faith and attend church regularly. My new family know nothing of my past life, and it will stay that way.
The reason for this confession is not to turn myself in, but for these last several years, this piece of my past has been weighing heavily on me. When I recently had a contract job in South Florida, and I drove through Tampa on my way in and stopped, I realized I must do something to correct this wrong against an innocent man who is serving a life sentence in prison.
Not sure if John Lehman is out of a Florida prison or not, but for the crime he and I ( a/k/a William Moore) committed in 1985 in Tampa, there is now an innocent man doing a life sentence.
This letter is all I know to do, this information is true and solid. Of course I did not go to the trial, so I do not know how this Torres guy came into the picture, but the only ones who know the truth are John Lehman, myself and god. This Torres fella had no part in this crime.
I am now close to fifty years of age with a deteriorating heart condition. I have a wonderful family, and aside from my failing health, I have a great life. I do not want to lose what I have and I must be here for my wife and children. I so very much regret my careless actions all these years ago, and am so very sorry an innocent man is losing his life in prison.
This is all I can think to do in order to correct my great mistake. I hope and pray that when the time comes, I am forgiven by the one who matters, and I hope that Torres can find it in his heart to forgive me for not coming forward in person.
Please understand, yes I have great regret, but I also must be here for my family.
Yours truly.
A.K.A William Moore
 This is the only response I was able to obtain from the Department of Justice, in regards to William Moore's confession to President Obama. Of course it was not the desired nor hoped for response.
— Leon Torres
Exhibit E
U.S. Department of Justice
Executive Office for United States Attorneys
Office of the Director Room 2261, RFK Main Justice Building (202) 514-2121
950 Pennsylvania Avenue, NW
Washington, DC 20530
DEC 7 2010
Leon Torres
# 106482
Sumter Correctional Institution
9544 CR 476-B
Bushnell, FL 33513
Dear Mr. Torres:
We respond to your letter requesting information pertaining to the "confession letter" we received several months ago. Unfortunately, the envelope was destroyed long before we received your request, so there is no postmark from which we can determine the date that letter was mailed. All we can tell you is the letter was dated December 24, 2009.
We regret that we cannot be of further assistance in this matter.
Sincerely,
Jay Macklin
General Counsel
This stolen motorcycle report was obtained from the Clearwater Police Department. A copy of William Moore's confession was sent to the Clearwater Police Department and they were asked if they had any Police reports of recovered sunken vehicles "namely a stolen Mustang" or if they had any reports of stolen motorcycles in the month of September or October? The Clearwater Police Department sent this report and stated"this is the only stolen motorcycle reported in that time frame." Twenty five years later, the odds of this report being just coincidence with someone admitting to murder to the President of the United States, those odds of just being chance are simply too great. With this Police report, William Moore's confession must surely be validated. Yet with all this evidence showing I did not commit this crime, I am still powerless to do anything from inside these fences.
— Leon Torres
Exhibit F
Exhibit G
Detective Danny Lee Bird was one of the only two detectives who arrested me and pushed for my conviction. This copy of a marriage license clearly shows that Detective Bird did in fact marry the widow (Mrs. Josephine Carrol Frishknecht) of the murder victim in this case. Once again, these chance odds are simply too great for being a mere coincidence.
This man (James Stewart) was the second person accused, only after the police couldn't locate the first person accused (William Moore, aka Wild Bill) who both, including myself, were accused of the crime by John Scott Lehman.
— Leon Torres
Nightmare Ends For Innocent Man
By BENTLEY ORRICK
Tribune Staff Writer
TAMPA – "They just didn't listen."
For James Robert Stewart, a 22-year-old carpet layer, that was almost the worst thing about his four months in jail. That and the terror of realizing that if they could jail an innocent man for murder without bail, they could possibly convict him, too.
Stewart, a touch of anguish still in his voice two years later, maintained Friday that he had proved his innocence in a holdup-murder at a restaurant he had never visited "the first week I was in jail", but nobody paid any attention.
"It was the worst experience I've ever been through in my life. It seemed like I was just going to the electric chair, " Steward said. "They just stuck me in jail that was it. I never heard nothing from them."
Stewart said he never received so much as received an apology from the Tampa Police Department. He filed a civil rights false arrest lawsuit in federal court this week.
It began minutes before midnight Aug. 31, 1985, when a man in a ski mask marched into the Matterhorn Haus Restaurant at 810 E. Skagway, pointed a 9 mm machine pistol at a dozen patrons and employees and demanded cash.
There weren't many customers there that nigh because Hurricane Elena was threating Tampa.
The bandit was handed a sack containing less than $200 in cash and was confronted by Johanas Frischknecht, the 39-year-old Swiss immigrant who had opened the restaurant five years before.
Frischknecht had a pistol too. But two of the bandit's bullets struck him, and the restaurant owner died minutes later in an emergency room.
Meanwhile, Stewart said, he and a roommate had left their trailer under a hurricane evacuation notice to stay with two other young men in Thonotossassa.
There, Stewart recalls, they watched a ball game and spent an uneventful night.
The gunman got away from the restaurant on foot. Two days later, police arrested a dishwasher at the restaurant, John Scott Lehman, who had tipped another employee before robbery that something was up.
Lehman told the police that a Jim Stewart had been the gunman. Stewart to this day said he does not know why: "I hardly knew him. I'd seen him around. But we weren't even acquaintances. Maybe he just picked it because it was a common name."
Police detectives found out Stewart had gone to Ohio and issued a warrant for him based on Lehman's statement.
The first Stewart says he knew about it was when police "threw me in a car and threw me in jail".
His nightmare was just beginning. He spent 48 days in the Columbiana Country jail refusing to be extradited.
He said he figured he would be released in Ohio because his parents had relayed his Thonotossassa-house alibi to police along with the names of friends who would back it up. He said he offered to take a polygraph and demanded to be put in a lineup. He figured his innocence would be proven right away.
He figured wrong.
For seven days, he journeyed from Ohio to Florida in a prison van. For more than three months he sat in the Hillsborough County jail before then-Assistant State Attorney Joe Episcopo dropped the case.
Stewart finally went free. Lehman had changed his story and named his sister's boyfriend, Leon Antonio Torres, as the gunman.
Lehman got eight years. Torres got life.
Stewart and his family got "the blackest time in our lives."
"It came up out of nowhere" he said. "I think maybe I heard about it (the robbery in papers) but, you know, I didn't think anything about it."
Episcopo said, "I don't have any problems with anything that happened. We thought we had probable cause. We were very concerned that that awesome machine pistol would be used adain".
Spokesmen for the Police Department and the State Attorney's Office declined comment.
Man Gets 2 Life Terms in Restaurant Slaying
By ORVAL JACKSON
Tribune Staff Writer
TAMPA – A 26-year-old man was sentenced to life in prison Monday for the second time in the 1985 slaying of a restaurant owner during a robbery.
Leon Antonio Torres was sentenced to two life terms, to be served consecutively in a manner to ensure he spends a minimum of 28 years in prison before being eligible for parole.
Torres was convicted April 13 in the shooting death of Johannes "Hans" Frischknecht during a robbery of the Matterhorn Hofbrau Haus restaurant just off Busch Boulevard near Interstate 275 Aug. 31, 1985.
The jury also convicted Torres of armed robbery with a firearm.
Hillsborough Circuit Judge William Graybill sentenced Torres to life on the robbery with a firearm conviction, to be followed by life on the first-degree murder conviction.
The robbery with a firearm conviction required a minimum of three years be served before Torres becomes eligible for parole to begin serving the second life sentence. The second life sentence required he serve a minimum of 25 years on that conviction before being eligible for parole.
Torres was convicted of killing Frischknecht in October 1986. The jury recommended the death penalty by a 7-5 vote, but the judge ordered a second sentencing hearing before a new jury in February 1987 because of procedural problems during the firs hearing.
The second juty deadlocked 6-6, which under Florida law amounts to a recommendation of life in prison, and Torres was sentenced to consecutive life terms for robbery and murder.
The conviction was reversed on appeal because blacks were excluded from the jury. The trial judge ruled that because Torres and Frischknecht both were white, Torres had no standing to raise the issue of rase.
An appellate court upheld that ruling, but Florida Supreme Court eventualy reversed the conviction, saying neither prosecutors nor defendants can exclude any group of people from a jury, be it for rase, sex or occupation.
The jury that convicted Torres in his second trial consisted of eight whites and four blacks, and both alternate jurors were black.
This is Scott Lehman's older sister, Pauline Lehman, who was my live in girlfriend at the time of this crime. During my retrial of 1990, she completely recanted her prior false testimony against me during my trial of 1986, by clearly stating in my retrial of 1990, that she only agreed I was the robber, in order to help her little brother avoid a life sentence, and because the police threatened her with a charge if she didn't help back up her brother's story. However, when I was once more convicted, the prosecutor used Scott's false testimony against his sister for a perjury charge, and his statements help to send his own sister to prison. — Leon Torres
Witness gets 5 years for perjury
TAMPA – A key witness in a murder case was sentenced to five years for perjury Tuesday because she completely changed her testimony between the first trial and a retrial.
Hillsborough Circuit Judge Richard A. Lazzara exceeded sentencing guidelines because he said the perjured testimony of Pauline Louise Lehman in the second trial was willful and intentional.
Court orders woman to be taken off probation
 By ORVAL JACKSON
Tribune Staff Writer
TAMPA – A 28-year-old woman who served five months in prison for perjury has been ordered freed of any probationary period by the 2nd District court of Appeal.
The appellate court ruled Friday that Circuit Judge richard Lazzara improperly exceeded Pauline Louise Lehman on Oct. 31, 1990, to five year in prison, followed by five year's probation.
Lehman, who at the time lived in Brokscille, was a key witness in the 1986 trial of her former boyfriend, Leon Antonio Torres. He was convicted of killing restaurant owner Johannes "Hans" Frischknecht, 39, during a 1985 robbery of Matterhorn Hofbrau Haus restaurant near Busch Boulevard and Interstate 275.
Lehman testified she gave Torres a stocking that he turned into a mask. She said Torres later told her about the robbery and that he had shot someone.
Torres, who sentenced to life in prison, was granted a new trial in 1990 because of errors committed during jury selection.
When called to testify in the second trial, Lehman said she knew nothing about a robbery or any statements Torres might have made concerning one.
Despite her change in testimony, Torres again was convicted and sentenced to life.
Lehman pleaded no contest to two counts of perjury and was ruled guilty. State sentencing guidelines called for probation, but Lazzara said he was exceeding the guidelines because the perjury occurred during a murder trial and was willful and intentional.
The appellate court said willfully committing perjury during an official proceeding was an inherent component of the offense and Lazzara was wrong in exceeding the guidelines.
It said Lehman has served a harsher sentence that permitted under the guidelines. The court ordered her taken off probation.
Assistant Public Defender Charles Traiana, who defended Lehman, said he did not know how to reach her Friday.
"I'm glad this happened," Triana said. "But the damage has already been done."
This is the terrorist act Scott Lehman committed when he firebombed a different restaurant. This is the charge the prosecutor used as leverage to force Scott into withdrawing his truthful Recantation Affidavit, (Exhibit-B). Withdrawing the Recantation Affidavit is why Scott only received a five year prison sentence for committing a terrorist act on American soil. — Leon Torres
2 Charged in Firebombing
TAMPA – A 29-yar-old Tampa man and a 13 year-old boy were charged Wednesday in two firebombings of a business at 2814 E. Bears Ave. in April, jail records show.
The business was not named.
John S. Lehman of 4817 Loughman St. and the teen, whose name is being withheld because of his age, are charged with two counts of first degree arson, a count of conspiracy to commit arson and two counts of possession and placing a destructive device, records show.
I truly pray for your help.
— Leon Torres